We make sure you can meet your accreditation and compliance requirements.
Quality management and supporting your accreditation is an essential part of what we do, and our ISO accreditation is essential in meeting regulatory requirements.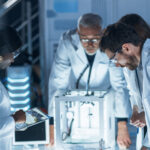 Accreditations
We are ISO accredited and work in line with the following standards.

ISO 9001 Quality Management Systems
We are accredited to ISO 9001:2015 standard. This is an essential part of everything we do to ensure we can always meet your requirements.

BS:EN 62304 Medical Device Software
Within our quality management system we have a development process for BS:EN 62304. The documentation produced meets the requirements of a technical file for a medical device (ISO 13485).

UKAS Management Systems
We are familiar with UKAS management systems, and we have experience of producing solutions that have been audited by UKAS within the laboratory environment including ISO 17025.

21 CFR Part 11 Producing & Storing Electronic Documents
We have incorporated 21 CFR Part 11 requirements into a number of solutions produced by us for our customers.